Dublin Port Company (DPC) has today announced the development of a second empty container depot as part of the 22-hectare first stage development of Dublin Inland Port.
Dublin Inland Port is located 14 kilometres from Dublin Port off the M2, with direct access to the M50 and to Dublin Port via the Dublin Port Tunnel.
Coming to the market next week is a 3.2-hectare facility, construction of which will be completed by year end.
When fully operational in early 2023, the new facility will have a storage capacity of 4,000 TEU. This will be in addition to the existing 6,000 TEU facility which commenced operations at the start of this year. It brings to €50 million DPC's total investment to date in Ireland's first inland port facility.
The further development of Dublin Inland Port continues the delivery by DPC of the commitment in Masterplan 2040 to maximise the use of existing port lands by relocating port-related, but non-core activities – including empty container storage – away from Dublin Port. It comes as unitised volumes – containers and trailers – grow back towards the peak volume levels of 2019.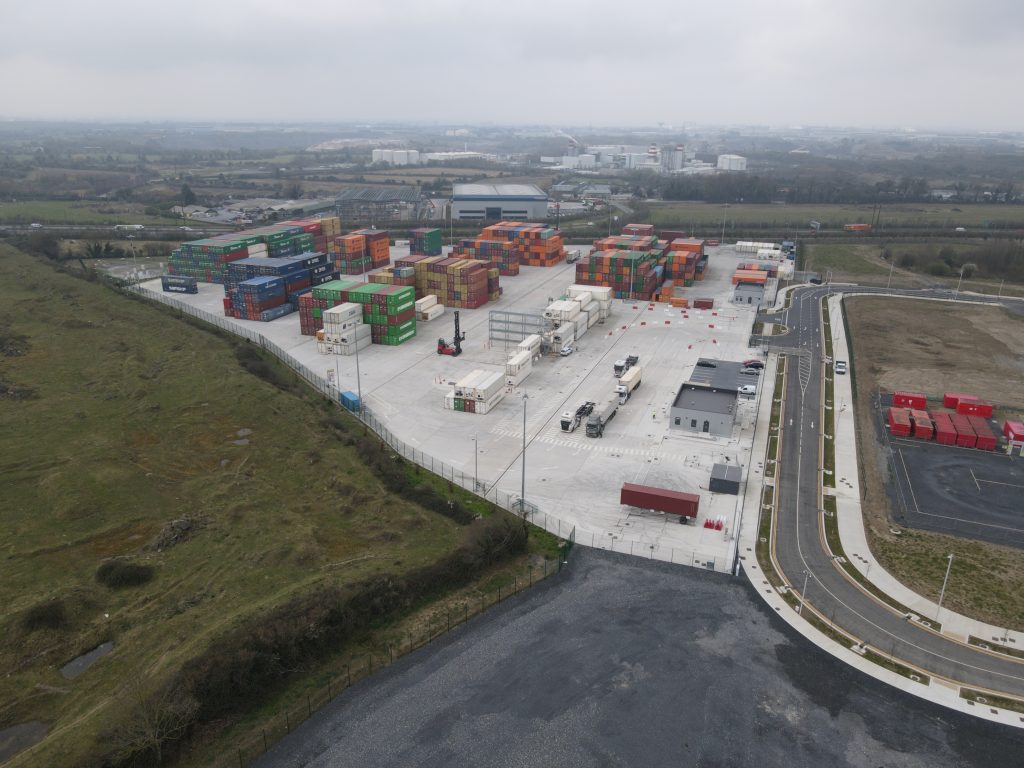 Empty Container Storage to Reduce Further
One quarter of all containers moving through Dublin Port are empty because of the structural inefficiencies in container supply chains created by trade imbalances.
Given the pressure on land, storage facilities for mountains of slow-moving empty containers awaiting export can no longer be accommodated in Dublin Port.
Ten years ago, there were seven empty container depots in Dublin Port. Today there are four. Over the past ten years, the volume of containers moving through Dublin Port has increased by 60% to 843,000 TEU in 2021.
All four remaining empty container depots will be redeveloped to provide more throughput capacity on Dublin Port's fixed footprint over the coming years as Dublin Inland Port develops.
Eamonn O'Reilly, Chief Executive of Dublin Port Company, said;

"As we develop Dublin Port towards its ultimate throughput by 2040, capacity pinch points are already emerging and we have to make sure that all of the port's lands are used exclusively for the transit storage of cargo, particularly trailers and containers. The removal of empty container depots to Dublin Inland Port is essential in achieving this objective. We expect to complete the Stage 1 development of Dublin Inland Port by the end of 2023 to provide capacity for all of the remaining port-related but non-core activities currently located in Dublin Port.
"Once this is done, we will develop capacity for the transit storage of laden containers and trailers at Dublin Inland Port. In addition to our efforts, other such facilities will need to be provided by private sector operators along the M1 and M7 corridors if Dublin Port is to continue to be able to handle future growth out to 2040."

Cormac Kennedy, Head of Property, Dublin Port Company, said;

"We have been working to relocate port-related but non-core activities such as empty container depot storage away from Dublin Port since 2014. The announcement today of the second depot facility coming to market is decisive and signals acceptance of the new realities in container supply chain operations.
"We expect to bring further sites to market this year and to complete the development of the first stage of Dublin Inland Port by the end of 2023. This first stage development will see Dublin Port investing €50 million in Dublin and Ireland's first inland port facility.
"We are at a tipping point on land capacity in Dublin Port as port volumes grow back towards the record levels of 2019 and as demand increases on unitised services with Continental Europe. In addition, the loss of excessive land areas to State services has further constrained the port's capacity to cater for growth post-Brexit.
"Dublin Inland Port's role will intensify, with more customers required to move not only empty containers but also laden units out of the port and at off-peak times. The window of opportunity is now, and customers who adapt early will see the benefits in their business immediately. We foresee additional Inland Ports being developed over time by other parties looking to emulate DPC's approach, with Dublin Inland Port the blueprint for such investment.
"For now, we are focused on getting this second development at Dublin Inland Port tendered, built and operational in the shortest time frame possible."